LG G Pro Lite Dual soon will get KitKat update via OTA – includes KNOCK Code too
Are you planning to buy a mid-range Phablet? You will get a half-a-dozen option from leading brands such as Sony, Samsung, Micromax and LG. Sony's Xperia C Dual, Samsung's own Galaxy Grand 2 and Micromax Doodle 2 are few names you will come across online and off, but then there is LG's own Lite version of their last year's Phablet flagship LG G Pro – LG G Pro Lite Dual. After LG introducing their L Series III Smartphones (LG L90/L70 Dual) in India with revolutionary KNOCK Code along with the latest Android version KitKat (v4.4.2); many raised their eyebrows about the future of LG's mid-range Phablet, as it's still having old version of Android OS (4.1.2). From a trusted source we came to know that, within next 10-15 days (April last week or May first week) LG G Pro Lite Dual (D686) will get a Firmware update via OTA. Yes! You guessed it right, in the Firmware update, D686 will receive KitKat (4.4.2).
Also Read: 16 Reasons why you should buy LG L90 Dual instead of Moto G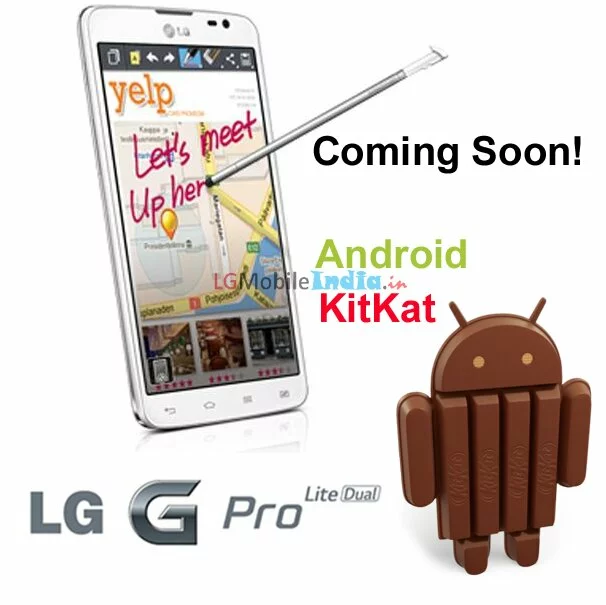 Though the exact date is still unknown, but the source revealed that as the LG L90 Dual and LG L70 Dual are having KitKat version of Android, the company is planning to roll out the same on their mid-range flagship too. This will certainly give a life to the Dual Core Phablet, which somehow falling behind in the Quad Core Phablet segment. All the other brands are still having 2012′s released version of Android Jelly Bean (4.1.2-4.3).
Currently LG is the only company which is having an army of KitKat (4.4.2) within almost all price range. From LG L70 Dual (in the 15K segment), LG L90 Dual (20K segment), Nexus 4 (25K segment), Nexus 5 (30-34K segment) and their latest flagship LG G2 (40-45K segment). As the company is planning to launch LG G Pro 2 later this month (which is yet another device with KitKat), soon LG will offer the latest Android OS version in the 50K segment also.
Recently LG cracked a deal with Nimbuzz! – an India based messaging app provider. In part of the deal LG will pre installed the App on all L Series III devices follows by others and give the users 100 minutes of Free talk time for international calls. We can certainly expect this with the OTA update along with the KNOCK Code feature. You can check out the hands on demo of KNOCK Code.
If you want to Buy LG G Pro Lite Dual – Click Here.
So stay with us as we will certainly be the first to inform you about the latest happenings related to LG Mobile here in India. Join us on Facebook – Twitter today as soon we are planning some giveaways. For complete reviews, tricks and tips and unboxing videos of LG Smartphones visit us on our YouTube Channel.
Related Posts via Taxonomies
LG announced the LG AKA Smartphones with four different characters