16 Reasons why you should buy LG L90 Dual instead of Moto G
After years of absence Motorola is back to Indian market with their latest mid-range powerhouse Moto G, which is currently the lowest range branded Smartphone having KitKat (4.4.2). Even though there is not a single Brick and Mortar store is selling the product, but Indian online giant – Flipkart.com. Due to his good quality of hardware, it became an instant hit. Many believes that there is no competition for Moto G in the market, until now! South Korean tech giant LG Electronics introduced their 2014 edition of L Series Smartphones in India earlier this month. LG L90 Dual (D410) is one of LG's answer to Motorola and their mid-range wizard Moto G. We have played with both the devices for the last 10 days or so and finally we are ready to write a head to head review of these two mid-range maestros.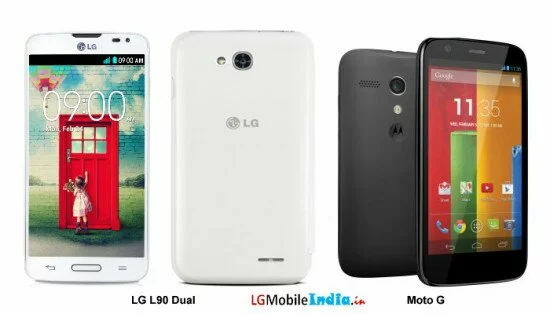 To start the comparison between LG L90 Dual and Moto G, first have a look how similar they are in terms of Tech Specs:
Quick Specifications of LG L90:
1.2 GHz Quad Core Processor [Qualcomm Snapdragon 400]
1 GB RAM
4.7 Inch IPS QHD Touchscreen Display
8 MP Rear Camera With LED Flash
1.3 MP Front-Facing Camera
3G/WiFi
Bluetooth
FM Radio
2540 MAh Battery
Quick Specifications of Moto G:
1.2 GHz Quad Core Processor [Qualcomm Snapdragon 400]
1 GB RAM
4.5 Inch HD  Touchscreen Display
5 MP Rear Camera With LED Flash
1.3 MP Front-Facing Camera
3G/WiFi
Bluetooth
FM Radio
2070 MAh Battery
 During the usage of both the devices we have spotted 16 shortcoming of the Moto G, below we have made a list of those:
 1. If size matters then you should buy LG L90 Dual instead of Moto G -  LG L90 Dual : 4.7″ vs Moto G : 4.5″
2. If overall size and gripping is important to you then you should buy LG L90 – where you will have 5.18 x 2.60 x 0.38 inches (131.5 mm x 66 mm x 9.6 mm) for LG L90, you will find 5.11 x 2.59 x 0.46 inches (129.9 mm x 65.9 mm x 11.6 mm) in Moto G, a bit more thick.
3. If you want to use the latest  OS, then you should choose LG L 90 Dual. Where the LG device comes with KitKat (4.4.2), Moto G comes with a Jelly Bean (4.3) out of the box, which you can upgrade to KitKat.
4. If you want to stay glued with your Smartphone for longer time, then you should choose LG L90 Dual. Whereas you will get 2540mAh battery in LG device, you will get only 2070 mAh in Moto G.
5. Love taking photography? You will get the best of still images with 9 auto grids DSLR like 8MP Shooter with a capability of record 1080p [Full HD], where you will be able to shoot 720p [HD]videos with 5MP with Moto G.
Also Read: LG L90 Dual – D410 Unboxing Video
6. It's human tendency to keep large and heavy devices away from our hands (keep them In our pocket, purse). Even though LG L90 dual having large display, its only 126g, while Moto g is 143g (17g more).
7. If you travel too much at day time, IPS display is the best display to view your screen under the sunlight. With LG L90 dual you will get best of True IPS display manufactured by LG Display.
8. Micro SD Cards are handy while switching from one phone to another, while you can insert your old phone's Micro SD Card to LG L90 dual, you won't get the privilege to do so with Moto G. With Moto G you will get either 8/16GB fixed storage without expanding option. With LG L90 dual you will get 8 GB mass storage with 32GB expanding option.
9. Still using the traditional way to unlock your device and let your friends see the pattern or pin? No more, with revolutionary KNOCK code, now you can just tap on the blank screen to unlock it. You can read more about it here.
10. If you have witnessed the revolutionary LG G2 and it's Quick Window Cover (through which you can receive call, play music, check your weather), get ready to enjoy the same with LG L90 Dual, as it supports the same.
Also Read: LG L90 DUAL [D410] AnTuTu Benchmark testing video
11. Keep your private life private with LG's revolutionary Guest Mode. Set separate pattern for you and your guests.
12. Still fighting for the TV remote? Or always forget to bring it with you while you relax on the couch? With Quick Remote you can access your TV, Blu-ray player or DVD player from your Smartphone.
13. Do you keep searching for pen to note down sometime important? With LG Quick Memo, you can virtually write on any screen on your phone. Save it or Share it, the choice is yours.
14. Others LG Quick Series apps such as QSlide, QTranslator and QShare along with Clip Tray (through which you can copy & keep an image or text for future use), Plug & Pop (it will show all multimedia apps on a floating window as soon as you insert the head set) makes it extra special than Moto G.
15. Love listening Music & FM? With LG L90 dual you can record each songs you listen on your FM radio, even if you missed it from beginning, with LG's unique FM Collector, you can start recording from 3 minutes before you press the recording button. The best part, it won't record the RJ voice.
16. There is an exclusive apps called LG Backup which let you backup your entire device with a single click. If you are upgrading yourself from LG L Series II Smartphone L7 II or above, you can take the backup with a click, and restore it on L90 with a click.
While Moto G gives you the taste of near to stock Android, you will fine fully customized Optimus UI on LG L90 Dual. Now we leave the final verdict to you all. So if you are planning to buy a new Sub-20k device, let us know which one would be your first choice?
To buy Moto G from Flipkart – Click Here.
To buy LG L90 Dual from Flipkart – Click Here.
Related Posts via Taxonomies
LG announced the LG AKA Smartphones with four different characters
LG GOOGLE NEXUS 5: Full Technical Specifications, Price and Availability